Novarian Creations
Automatic Subarea Robot Lawn Mower
Sale price Price $2,500.00 Regular price
Free Shipping Worldwide (5-10 Days)
S520 Automatic Subarea Robot Lawn Mower
Home & Living | Bed & Bath | Home Electronics | Home Decor | Arts & Crafts | Lamps & Lighting | Home & Kitchen | Travel Electronics | Home & Garden
Feature: Height Adjustable Handles
Battery: 6.6AH lithium battery
Smartphone Wi-Fi APP Control: Yes
Water-Proofed charger: Yes
Cutting height: 2.5-5.5cm
Mower Size: 60.5*47.5*28cm (LWH)
Charging Station: 44*48.2*15cm (LWH)
Working capacity: 2600m2+_20%
Coverage (for one charging): 800m2+_20%
Charging time: Less 3 hours
Longest Wire and Pegs: 600m+600pcs
Robot Lawn Mower S520 Main Functions:
 
1. Lift sensor : If the mower is lifted from ground, then it will stop working within 1 second.

2. Tilt sensor: When the Mower is tiled over 30 degrees in any direction,it will stop working within 2 seconds
3. Range function: There are four options for the ranges, user can choose the distance when the robot hits the virtual wire according the
condition of different lawns.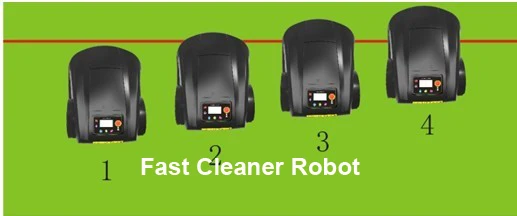 4. Bump sensor: It will activate when the mower strikes an object, fixed objects when that object is at least 6cm in vertical height from the supporting surface of the mower, when the bump sensor is activated the mower will turn back on.
 
5. Rain sensor: There Are Two Rain Sensors located on the mower, the mower will go back to the charging station automatically when it's raining.
6. Touch Sensor: Touch the handle when the mower is cutting ,it will cease function within 0.5 seconds.
7. Wi-Fi remote control (IOS And Android System)
9. Mowing schedule (in any time)

9. Anti-theft (Password for protecting)
10. Cutting height easy adjustable (2.5-6cm)

11. Auto recharge 

12. Emergency stop switch

13. Pressure sensor 

14. Overload protect 

15. Waterproof 

16. LCD display 

17. Subarea setting 

18. Different languages selection: English, French, German, Danish, Swedish, Finnish, Italian, Norwegian, Spanish, Dutch, Russian, Polish and more.
19. Virtual wire: (The longest can be 600m,standard packing was 100m)
 Technical information about S520:
Packaging & Shipping
1pc packed in one carton
Carton Size:91*56*36cm(L*W*H) 
G.W/N.W:22/19kgs
20ft/40ft/40hq :144/312/364pcs     
What is the packing box:
Robot Lawn Mower: 1pc
Waterproof charger:  1pc
Remote Control:  1pc
Virtual wire: (100m)
Pegs: (100pcs)
Virtual wire connectors: (10pcs)
Charging station:  1pc 
Inner hexagon spanner
Stakes: (4pcs)
Blades:  4pcs 
User manual:  1pc 
Wi-Fi manual:   1pc 
Every product is unique, just like you. If you're looking for a product that fits the mold of your life, the Automatic Subarea Robot Lawn Mower is for you.

Inventory Last Updated: Jan 19, 2020
choosing a selection results in a full page refresh